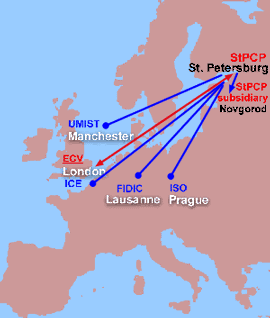 19th Line V.O., House 4,
Letter B, Premises 1-H, 199106, Russia
E-mail:stpcp@peterlink.ru
ATTENTION!
Russian SNiPs and GOSTs available in English!
Report on the Local Construction Sector Development
The company
St. Petersburg Construction Partnership (StPCP) is a non-profit-making organisation established in 1994 with the key aims of:
assisting the Russian construction industry in adaptation and development under market economic conditions, and
assisting Western companies coming to Russia and doing business in St. Petersburg and North-West region of Russia.
StPCP is the wholly owned Russian branch of European Construction Ventures (ECV) which is registered in the UK as a Company under Guarantee.
The local partners of StPCP are:
St. Petersburg State University of Architecture and Civil Engineering (SPbGASU)
St. Petersburg State University of Engineering and Economics (ENGECON)
St. Petersburg Military Engineering and Technical University (SPbVITU)
The company employs qualified managers and specialists to undertake a range of services to international and local businesses acting in Russia and CIS, i.e.:
International Contract Preparation, Mediation and Disputes Consultancy
Specialist services to assist Clients with the preparation of contract documentation and subsequent administration and management of contracts. Assistance to Consulting Engineers and Contractors in the administration of international contracts (especially FIDIC) and where necessary claims and disputes Mediators or Advisers.
FIDIC Contract Conditions
StPCP are the exclusive authorized translator of FIDIC Standard Conditions of Contracts into Russian. Assistance is provided in adaptation of FIDIC model contract conditions to suit the Russian legislation and particular project requirements.
ISO 9000 Quality Management Consulting and Auditing
StPCP work closely with the Czech Republic Institute of Тechnology and Testing (TZUS) which is an accredited ISO auditor. Training courses both public and "in house" are provided for companies seeking registration under
ISO 9000
standard.
OHSAS 18000: system development and certification; staff training
Project management and administration
Local support of international projects is provided including local project administration, procurement, technical, legal and linguistic support.
Local human resource development and training
StPCP provides specialist training courses for the Russian and CIS construction engineers to develop their skills in strong competitive environment, e.g.:
International contracts for construction (FIDIC, NEC, contracts used in CIS);
FIDIC model contract conditions and their use in Russia and CIS;
Quality management to ISO 9000 standard;
Procurement and international tender requirements and procedures;
Management of construction projects;
Use of English language for construction projects.
Please look for details in section TRAINING.